ALASKA COUNTRY INN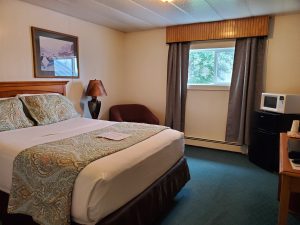 Welcome to Alaska Country Inn located at the true "End of the Alaska Highway" and only minutes from Fort Greely. 
In May of 2018 we purchased Kelly's Alaska Country Inn.  Since then, we have made numerous improvements with the comfort of our guests in mind.
All of our rooms are now *air conditioned and have closets for your clothing. All of our rooms have * private bathrooms, *mini refrigerators and *microwaves.  *High speed internet service and *cable TV is included!  Kitchenette rooms are also available!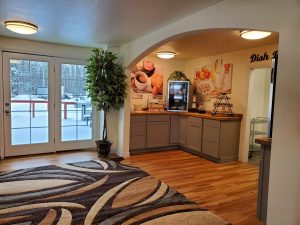 Folks love our  continental breakfast!  Guests can call and put in a breakfast order to pick up, or can come and eat in our dining area.   If you are a group, we will even cook up a hot breakfast for the team. If you enjoy grilling, there's a BBQ deck with two grills and tables for your use.  We have also put in a coin operated guest laundry area for you!  We are conveniently located right in the middle of town and the grocery store, bar and restaurant are across the street.  Ft. Greely is only 5 miles away! We are focused on making your stay at Alaska Country Inn as comfortable and enjoyable as possible.  We treasure the history of our beginnings and look forward to the opportunity to serve you!
Single Occupancy: $139.00 -$149.00  Double Occupancy: $159.00 – $169.00 Continental Breakfast included!
Our Office is located at
Alaska Country Inn
1616 Richardson Hwy
907-895-4662 front desk
907-895-4667 to leave a message