Extended Stay Apartments                                                 
Delta Accommodations offers thirty-five fully furnished one and two bedroom apartments for extended stay customers. Whether you are staying overnight, or rotating in and out, our goal is to provide lodging that is guaranteed to give you more than a hotel experience at a greater savings to you.  Click on the HYPERTEXT and see pictures of our apartments!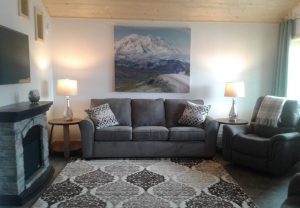 Located at Alaska Country Inn! These one bedroom and two bedroom apartments have all the amenties of home. Each apartment has a full kitchen supplied with all the dishes and pots and pans.  A washer and dryer is included in each apartment, making these totally convenient and cost effective. The grocery store is right across the street, and you can walk to the restaurant/bar if you decide you don't want to cook that night, or you can grill in our gazebo island and enjoy the tables and adirondack chairs. High Speed Internet and Cable TV are provided as well as weekly maid service.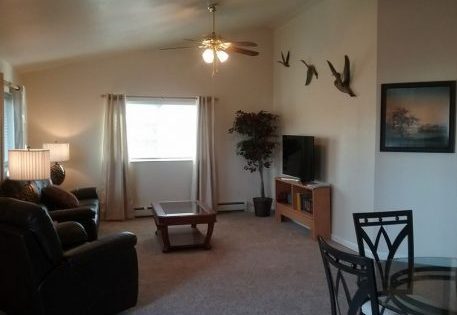 Located right in the heart of downtown Delta Junction and only 5 minutes away from Ft. Greely.  Each apartment has 2  bedrooms with queen size beds and all are supplied with sheets, linens and towels.  It's just a short walk to the grocery store and local restaurants, but with a full kitchen… you can choose to do your own cooking!  Folks love the suites for the convenience and inclusive amenities.   Maid service is provided every week to extended stay guests.
Located 2 miles from downtown and only 10 minutes from Ft. Greely.  These apartments are detached cottages in a country setting surrounded by birch trees and green lawn.    Each cottage is private and offers leather furniture and 50″ screen TV's, internet service, queen beds in each room, full kitchens and laundry areas.  Blueberry cottages has 2 one bedroom apartments and 2 two bedroom apartments.  They are great for teams that like to stay together, yet giving each one their privacy.  Teams who have stayed here love the sense of home.  Yes it's lodging,  but so much more!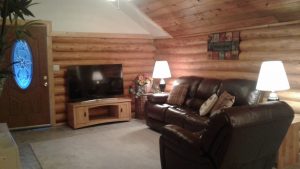 DIPPER CABIN
With all the charm of a country cabin, yet is packed with all the modern amenities.  This two bedroom two bath home is fully furnished just like all our other locations.  All of our homes are supplied with linens, towels, sheets, pots and pans, bake ware, dishes, glasses, mugs, toaster, coffee pots, dishtowels and utensils all to make your stay convenient and homelike.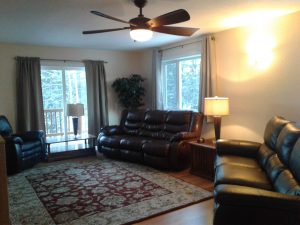 COTTONWOOD 
This is our four bedroom, 3 bath home with a glorious big kitchen and dining area.  Perfect for teams who need to work together after hours, or perhaps you have a large family coming in that needs the space for a few days.  Cottonwood is located off the Clearwater Road, about 16 minutes from town.  There are two 50″ screen TV's!  One in the living room and one in the dining room.  The kitchen is fully stocked with all the dishes, pots and pans needed to make yourself a wonderful meal, just like home.
Set back off the road and is about 6 miles from town.  There are 4 apartments and each has two bedrooms and one bathroom.  Spacious and set up with all the amenities of a home.  Here you can possibly see a moose outside your living room window!  Hannan Court has a washer and dryer for your convenience and the kitchen is stocked with all the dishes, pots and pans needed to cook up a delicious meal!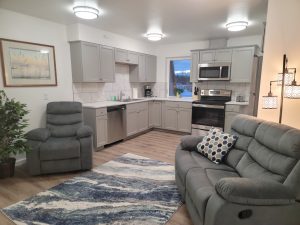 Mt Hayes Suites is one of our newer locations right downtown next door to Alaska Country Inn.  This 3 story complex has 6 one bedroom apartments and 3 effieciency apartments that can function independently or be a second room in conjuction with a full size apartment.  Each apartment is beautifully furnished with queen size beds and private bathrooms.  Each floor has a laundry area for customers on that floor.  Next door is the postoffice and across the street is the grocery store and a restaurant/bar making this a very convenient location for those who like downtown living.
VLADIMIR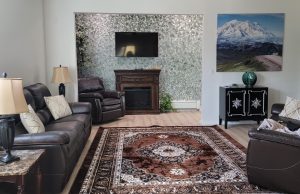 Located about 5 miles out of town, Vladimir is a beautiful triplex with a total of 7 bedrooms and 7.5 bathrooms.  Each apartment has a full kitchen and laundry area.  The pictures highlight the three different apartments.  One 3 bedroom apt, and two 2 bedroom apartments.  Vladimir is perfect for teams that like to be together, but still have their own personal space.  There is also a 3 bay garage on location!  Great for storage, or setting up a team man cave.