Take a tour of Delta Accommodations hotel lodging in Delta Junction!
 RICHARDSON SUITES  is located right in the heart of downtown Delta Junction and only 5 minutes away from Ft. Greely.  Each apartment has 2  bedrooms with queen size beds and all are supplied with sheets, linens and towels.  It's just a short walk to the grocery store, and local restaurants, but with a full kitchen…you can choose to do your own cooking!  Folks love the suites for the convenience and inclusive amenities.   Maid service is  provided every week to all short-term and long-term guests.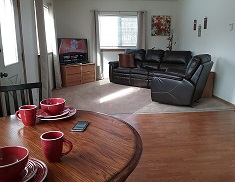 BLUEBERRY COTTAGES is located 2 miles from downtown and only 10 minutes from Ft. Greely.        These apartments are detached cottages in a country setting surrounded by birch trees and green lawn.    Each cottage is private and offers leather furniture and 50″ screen TV's, internet service, queen beds in each room, full kitchens and laundry areas.  Blueberry cottages has 2 one bedroom apartments and 2 two bedroom apartments.  They are great for teams that like to stay together, yet giving each one their privacy.  Teams who have stayed here love the sense of home.  Yes it's lodging,  but so much more!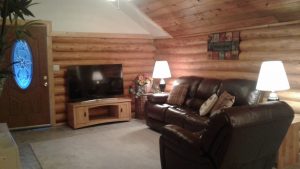 DIPPER CABIN is the newest location in Delta and is located 2.5 miles from town.  Nestled in the woods in a true country setting.  Dipper cabin has all the charm of a country cabin, yet is packed with all the modern amenities.  This is a two bedroom two bath home fully furnished just like all the other locations, Dipper cabin is our little get away…for the guests who would like solitude.  All of our homes are fully furnished and supplied with linens, towels, sheets, pots and pans, bake ware, dishes, glasses, mugs, toasters, coffee pots, dishtowels, utensils all to make your stay convenient and homelike.
MORE TO COME!  Yes….there is something more in the works….  So be watching!